BiblioTech - First All Digital Public Library in the Nation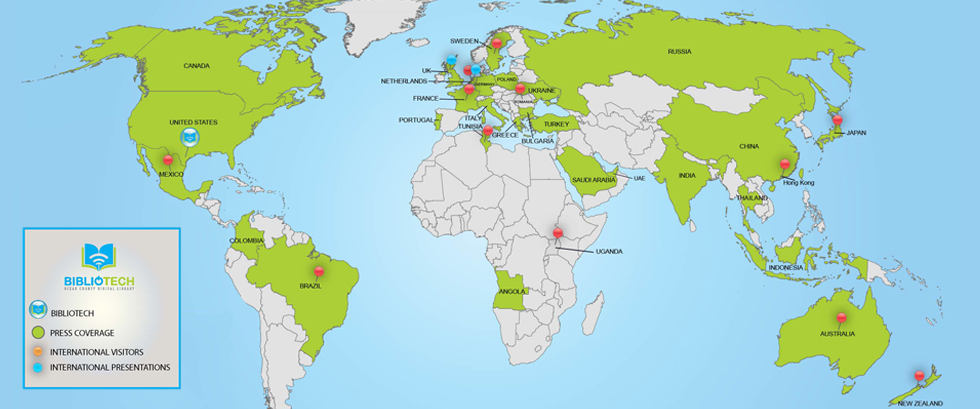 Map of Visitors to and Media Coverage about BiblioTech

Dr. Ricardo Romo
UTSA President
"I'm very honored to accept this recognition on behalf of the staff and individuals who have created this innovative system for learning," said Dr. Ricardo Romo, who grew up nearby and worked at the Horace Mann Middle School library as a teenager. "Reading is extremely important, and the more people we can touch and inspire, the better."
Dr. Ricardo Romo is the fifth president of The University of Texas at San Antonio. A San Antonio native who grew up on the city's westside, Romo graduated from Fox Tech High School before attending the University of Texas at Austin on a track scholarship. At UT Austin, he was the first Texan to run the mile in less than four minutes, a record that lasted 41 years. He earned a bachelor's degree in education from UT Austin, a master's degree in history from Loyola Marymount University, and a Ph.D. in history from the University of California, Los Angeles.

Travis Cox
Hidalgo Board Member
Advisor with USAA
"Having a resource like BiblioTech is not just about technology. A resource like BiblioTech can help you find the right answer. With BiblioTech, you are free, not confined by temporary political climates. It is the most democratic of institutions because no one — no one at all — can tell you what to read and when and how."
Click here for NEW BiblioTech book written by Judge Wolff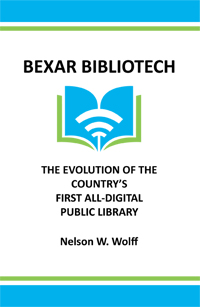 "In this small, compact book I take you on a 20-year journey from my involvement in the building of a 240,000-square-foot public central library that opened in 1995 to the creation of a 4,000-square-foot digital public library in 2013 and its aftermath. It is a fast paced journey, much like the speed of the mobile digital revolution. In its wake, BiblioTech would become the nation's first all-digital public library, opening in September of 2013." — From the Forward of Bexar BiblioTech by Nelson W. Wolff
The e-book can be purchased through Amazon here.
All proceeds benefit the Hidalgo Foundation of Bexar County. If you do not have an Amazon Kindle, you can download the free Kindle app on most devices.
The Hidalgo Foundation — in collaboration with the Bexar County Commissioners Court — has created the first ever county-wide library system that is entirely bookless and electronic. The name of the public library is BiblioTech — a play on the Spanish word for library — biblioteca. Through BiblioTech, the community has access to more than 40,000 current titles and classics free of charge. For those whose access to technology is limited, an e-reader can be checked out at BiblioTech branches. E-reader owners can access BiblioTech's library collection remotely with a virtual library card.
Success Metrics
Since opening, BiblioTech has served as a library service delivery model around the world while significantly impacting our local community.
Over 224,513 on-site visitors
81,668 registered patrons
36,978 e-books in collection
220,131 e-books circulated
11,538 devices circulated
739,028 website visits
34,296 desktop sessions
Participation in over 190 community events to engage families in reading
58 Schools in 14 school districts reached through BiblioTech EDU
43,986 students reached through BiblioTech EDU
18,626 students registered through BiblioTech EDU
68,597 family members impacted through outreach efforts
Averages over 200 community events a year touching over 31,925 community members
Metrics as of January 2016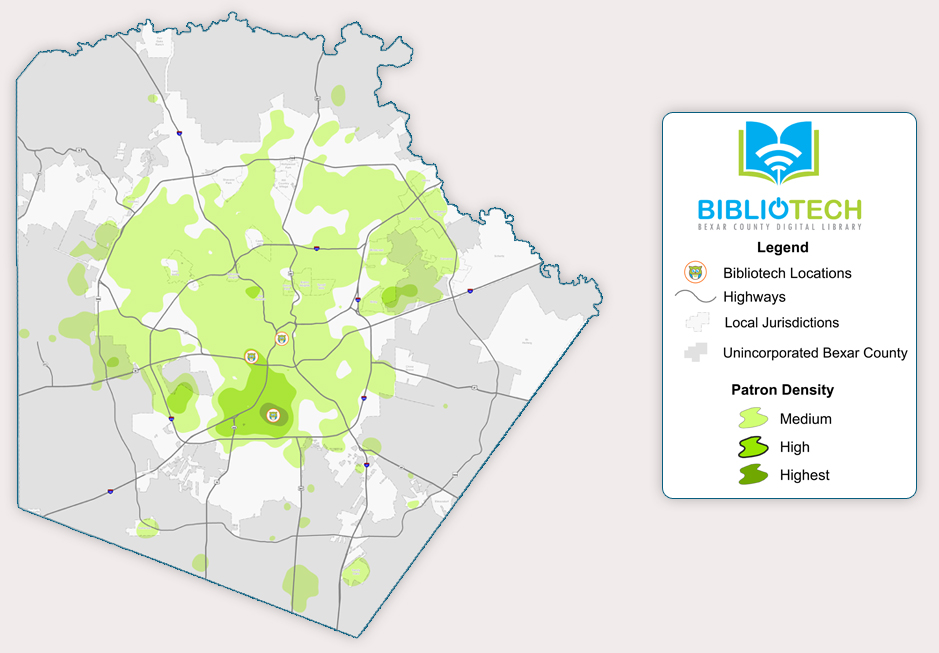 Points of Interest
BiblioTech is focused on STEM (Science, Technology, Engineering and Math) through prerequisite classes for the Open Cloud Academy, a Makers Space where creativity comes to life, and other educational opportunities for young people going to college or entering the workforce.
Current programming includes First LEGO League Robotics, Genealogy, iOS Accessibility Basics, Adobe Creative, Music Theory using digital technology, Tiny Techolotes Story Time, and technology classes in English and Spanish.
Opened satellite operation in the Central Jury Room of the Bexar County Courthouse serving 75,000 people every year.
Implemented reading program at Juvenile Detention Center.
Implemented reading program for incarcerated mothers in MATCH (Mothers And Their Children) program.
Integrated BiblioTech resources at the Warrior and Family Support Center at Ft. Sam Houston.
Integrated BiblioTech resources at Joint Base San Antonio (Randolph, Fort Sam Houston, Lackland).
Satellite location in the Central Jury Room at the Historic Bexar County Courthouse
Visually-impared computer stations available with electronic braille technology allowing access to all the e-books in the collection
Services
BiblioTech serves as a public source of computing equipment, electronic devices, study spaces and meeting rooms in an internet café type setting. At BiblioTech, patrons are able to:
Read an e-book
Use a desktop, laptop, or tablet computer
Learn a new computer program
Explore the internet
Listen to an audio book, watch a video, or learn a foreign language
Work on a school project or resume
Attend lectures and workshops
Bring their children who can learn through play on the "Little Tykes Kid Smart Computers" and interactive tables equipped with educational software
Locations and Partnership with the San Antonio Housing Authority (SAHA)
BiblioTech's inaugural library branch opened in September 2013 in a low income neighborhood of the southside of Bexar County at 3505 Pleasanton Road. A second library branch opened in July 2015 in the San Antonio Housing Authority's (SAHA) Gardens at San Juan Square housing project in West Bexar County at 2003 S. Zarzamora. BiblioTech West, named after UTSA President, Dr. Ricardo Romo, occupies 2,400 square feet of commercial space and is divided up into different areas such as a reading room, children's area, study room, and lounge.
BiblioTech East is scheduled to open in the Fall of 2016 on North Walters Road, in an Eastside Promise Neighborhood. As with BiblioTech West, BiblioTech East will be co-located in another SAHA housing development: Wheatley Courts. Wheatley Courts has been designated as the beneficiary of a Choice Neighborhoods Planning grant and is located just five blocks away from Wheatley Middle School. BiblioTech East will include 4,200 square feet of retail space and feature a digital reading room, children's area, study rooms, community room, and a "Maker Space" where technology learning comes to life.
The BiblioTech partnership with the San Antonio Housing Authority (SAHA) is particularly noteworthy. SAHA is the only housing authority in the nation to receive both Choice Neighborhood planning and implementation grants and was a key partner in the city's Eastside Promise Neighborhood grant. The Dr. Ricardo Romo BiblioTech and BiblioTech East are both co-located in SAHA public housing projects. Through this collaboration, SAHA leases space to BiblioTech for nearly free and BiblioTech in turn provides the residents access to the internet, community technology, and programming.
In addition to these three library branches, BiblioTech has a satellite library in the Central Jury Room at the Bexar County Courthouse as well as a presence at the Warrior and Family Support Center at Fort Sam Houston and at three Joint Base San Antonio military libraries (Randolph, Fort Sam Houston and Lackland). BiblioTech has a presence in 58 different middle and high schools in 14 local Independent School Districts (ISDs) through BiblioTech EDU, a donated e-reader program to local school libraries.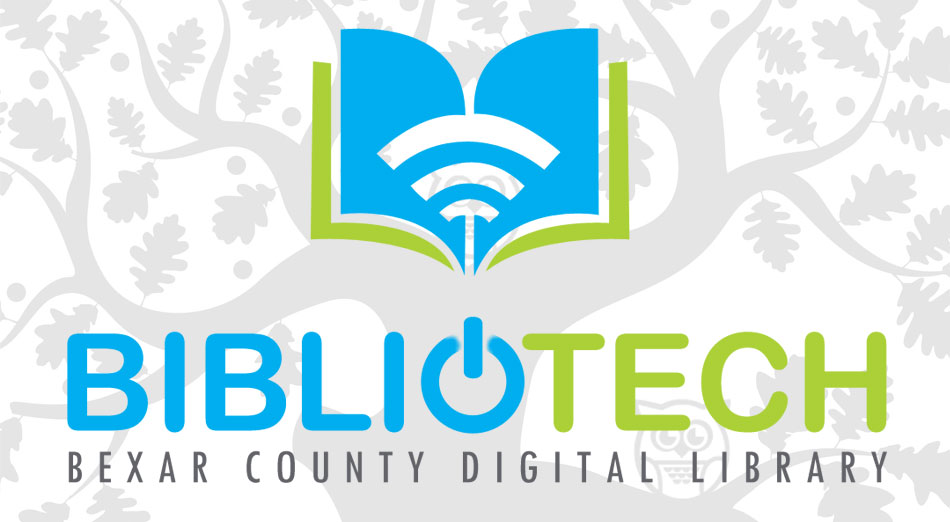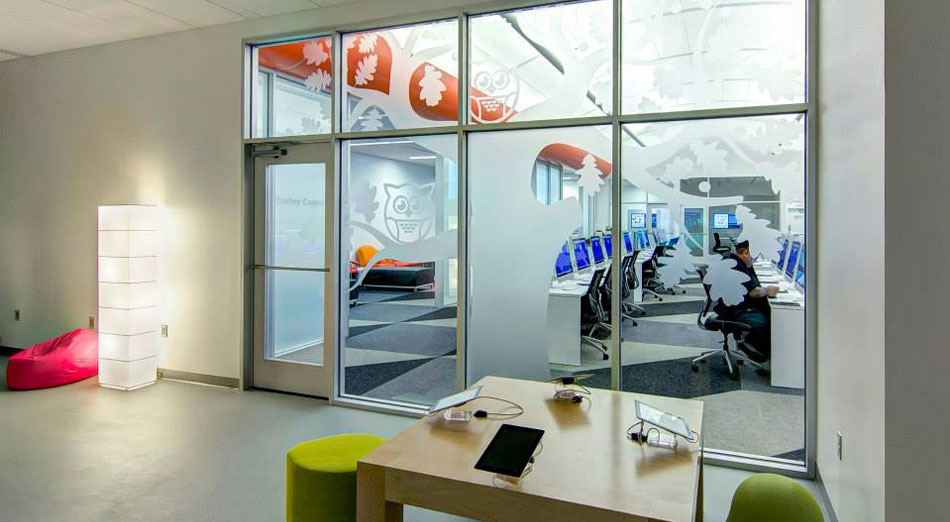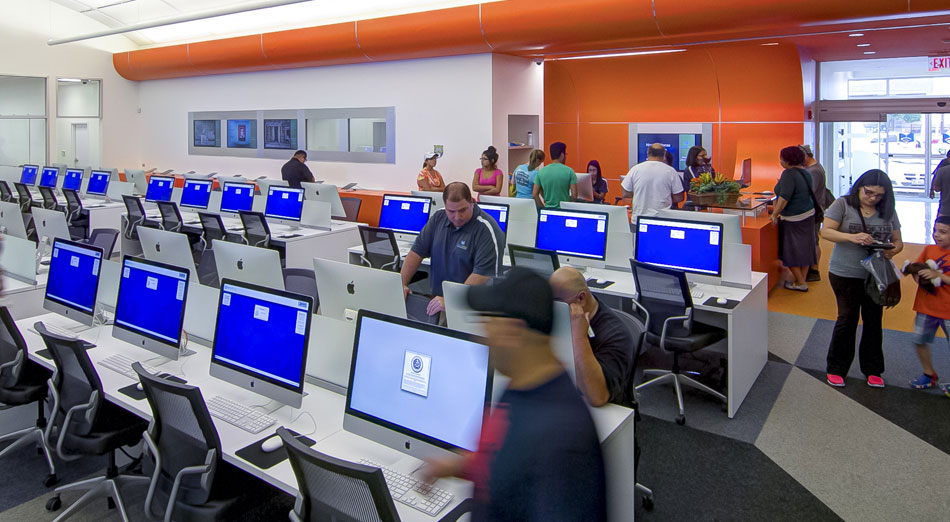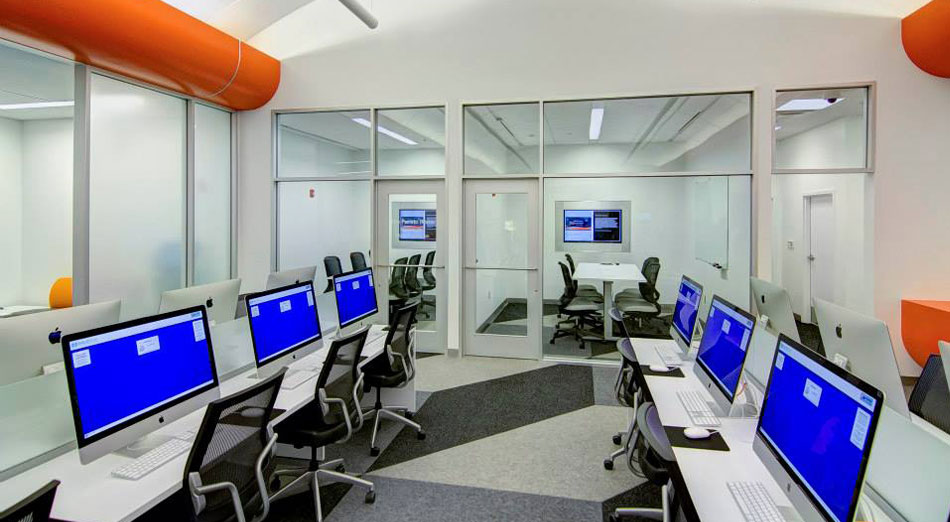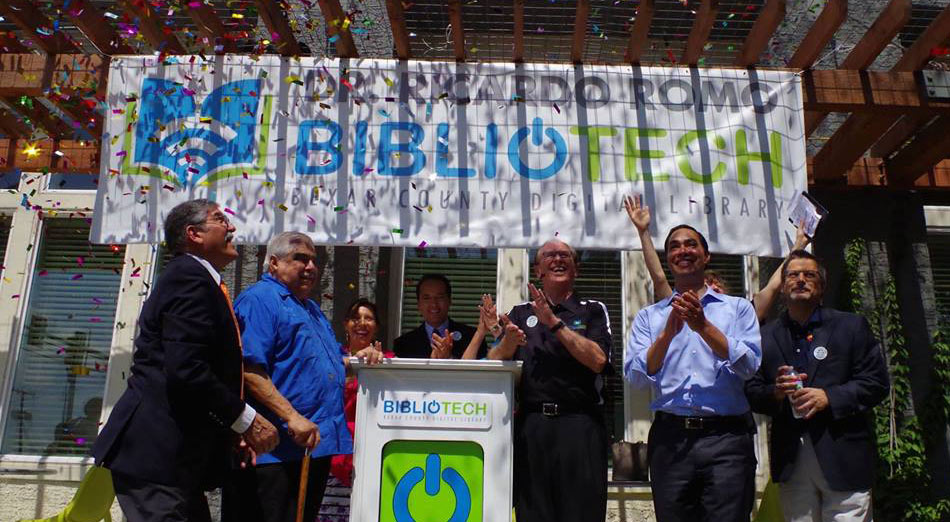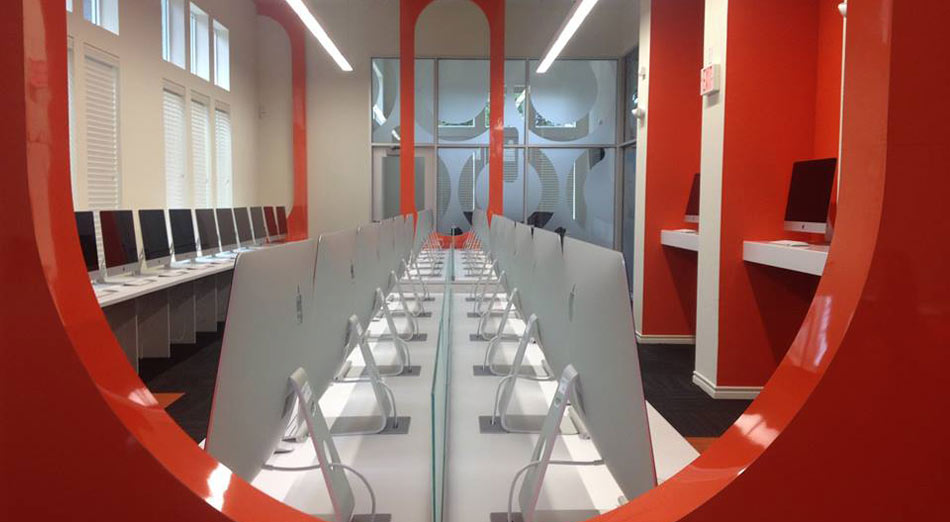 BiblioTech Donors
80/20 Foundation
AEM
AHMSA International/Jorge Ancira
Alice and Sergio Viroslav
Baltazar and Deborah Serna
Ms. Barbara Broering
Ms. Betty Bueché
Bexar County Coliseum Advisory Board (BCCA)
Bobby and Julie Perez
Bracewell & Giuliani
Broadway Bank
Commissioner Paul and Irene Elizondo
David Elmore
Edith McAllister
Eduardo Bravo
FIRST
Frank and Cecelia Herrera
Myra Stafford Pryor Charitable Trust
Gary Joeris
Gisela Girard and Al Aguilar
Google Fiber
Greehey Family Foundation
H-E-B
Helen Groves
Henry and Mary Alice Cisneros
Henry Muñoz
HNTB Engineering
James & Carolyn Ulinski
Joeris General Contractors
Kenny Wilson
Kronkosky Charitable Foundation
La Familia Cortez
Leo Quintanilla
Linebarger Goggan Sampson & Blair, LLP
Meadows Foundation
Mid-America Orthopaedic Association
Muriel Siebert Foundation
Nelson and Tracy Wolff
NuStar Energy
Pape Dawson
Pat Maloney
Peter Ravdin
Raba Kistner
Rene Gonzalez
Richard Perez
Robert and Carmen Puente
Rodeo Read Trip
Rosie Castro
S. Barshop Investments
San Antonio Area Foundation
San Antonio Hispanic Chamber of Commerce
Senator José Menéndez
Silver Eagle Distributors
Spurs Sports & Entertainment
Steven Q. Lee
Sylvia Rodriguez, Valero Energy Foundation
The Harvey E. Najim Family Foundation
The Hearst Foundation
The McCombs Foundation
The USAA Foundation
The Tobin Endowment
Toyota Motor Manufacturing, Texas, Inc. (TMMTX)
Union Pacific Foundation
V.H. McNutt Memorial Foundation
Valero
Wells Fargo
Zachry Foundation